This morning when you sat down for breakfast chances are you enjoyed a tangy glass of orange juice. But, did you ever stop to think how that delicious citrus staple got from a tree to your table? The story of O.J. is closely linked with that of a Sicilian immigrant, Anthony Rossi, who came to America as a wide-eyed 21-year-old. Rossi arrived at Ellis Island, like so many others, with nothing more than a dream in his heart and the clothes on his back. He was unable to speak any English, had no formal education, had no money, and no connections to help him get started in America. Yet, the symbol of Lady Liberty in New York harbor was a beacon of hope.
Rossi began working in a New York City grocery store, but his eventual goal was to be a farmer. By and by, he steadily moved up the corporate ladder and became the owner of a small grocery store. One day, Rossi visited a public library and found a book on agriculture. He sat down to read it at one of the long tables. He noticed another book was on the table, entitled The Life of Christ. Rossi was raised Catholic, but knew little about Christ, so he began reading it and was transfixed. The next day he purchased a Bible and became engrossed in its message.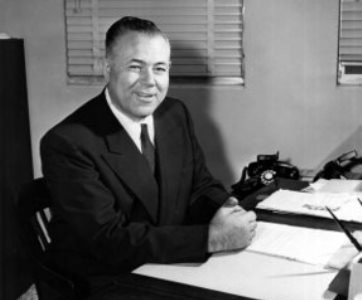 Rossi started attending a Methodist Church where a Christian couple befriended him and through their love he came to know Christ as his Savior and Lord. One Sunday in church, he prayed: "Lord, if you give me an idea for a business, I will be faithful to give a portion of everything I make back to Your work." That very morning, Rossi said the idea of "Fresh squeezed orange juice" popped into his head. Rossi had been given a vision and he seized it.
Rossi sold his grocery store and decided to move South in search of an orange grove to begin building his business. He purchased a small orange juice company in Bradenton, FL and through innovation, creativity and tenacity, transformed it into the industry leader, Tropicana.
Rossi became a leading Christian businessman, whose legacy far exceeded the "100% pure squeezed sunshine" that made him famous. He was also faithful to give to God—not just 10% of his income, as many faithful believers do, but 50% of his income for 60 years until his death in 1993! He also gave truckloads of free O.J. to Christian colleges throughout the country.

[1]
Rossi's story is a testament to one of the great promises in the Bible regarding giving, "Bring the full tithe into the storehouse, that there may be food in my house. And thereby put me to the test, says the Lord of hosts, if I will not open the windows of heaven for you and pour down for you a blessing until there is no more need" (Malachi 3:10).
As far as I know this is one of the only places in the Scriptures where we are told to test the Lord. God challenges us, "I dare you to start giving and just see what happens." If you have not been giving I challenge you to start giving your tithe every week and if you go broke or hungry and your family ends out on the streets then you can call God a liar, but you'll be the first.
Tithing is an exercise in trusting that God can supernaturally do more for you with 90% than you can do with 100%. Tithing places faith over sight. On paper it doesn't make sense, when you crunch the numbers it might look like you have more going out than coming in. However, when we put God first, it grows our faith and tests us to depend on Him to meet our needs.
God is the greatest giver that there has ever been and it's impossible to out-give Him. Someone once asked Rossi how he could give so much to the Lord's work and still possess great wealth. He replied, "Oh, as I shovel it out, He shovels it in, and the Lord has a bigger shovel!"
Please don't misunderstand me, I'm not saying that if you tithe you'll become a millionaire. But you will be blessed in ways that will blow your hair back and that's a guarantee from God.
Friends, there's only one reason a man or woman won't tithe—and that is, they just don't believe it. But for those who trust and obey, in this area they will see the windows of heaven open up and they will have so many blessings they will be drinking from their saucer! -DM
---
[1]

Sanna Barlow Rossi, Anthony T. Rossi: Christian & Entrepreneur (Downers Grove, IL: InterVarsity, 1986), 158.