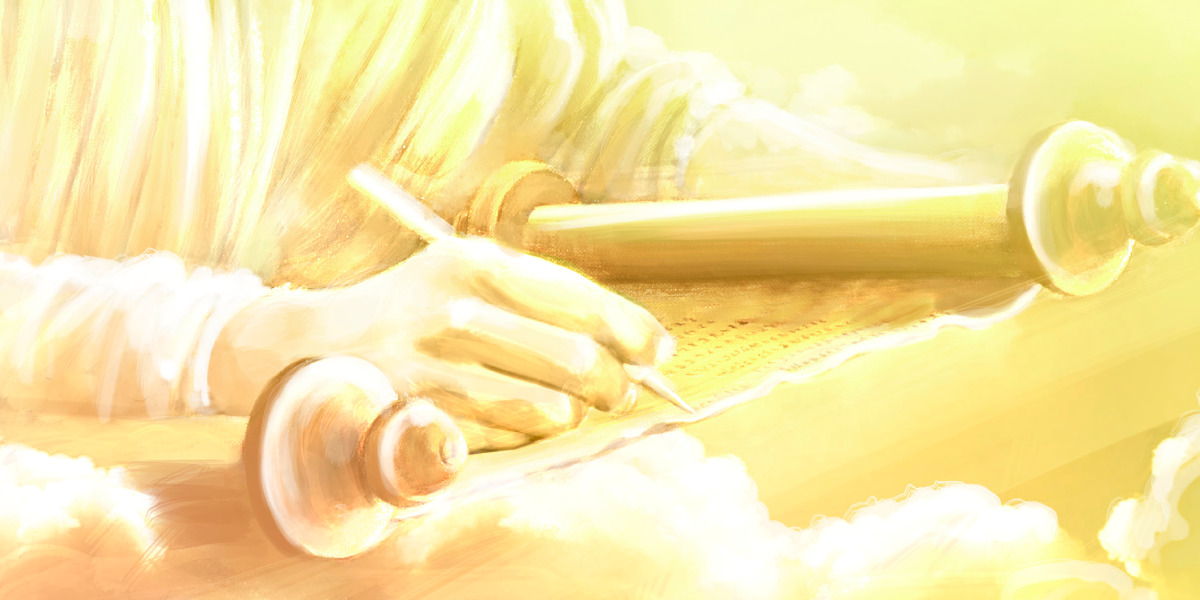 12 And I saw the dead, great and small, standing before the throne, and books were opened. Then another book was opened, which is the book of life. And the dead were judged by what was written in the books, according to what they had done.

(Rev. 20:12)
When the wicked are judged at the Great White Throne they will be measured against several standards. In fact, we are told that God has several books in his heavenly library. In Rev. 3:5, Christ promises the faithful believers at the church of Sardis, "The one who conquers will be clothed thus in white garments, and I will never blot his name out of the book of life. I will confess his name before my Father and before his angels." This is an allusion to the so-called, "Lamb's Book of Life," where God is keeping a record of all who have placed their faith in Christ.
The Roman cities in Jesus' day had a register that listed the names of every citizen. If people committed crimes or dishonored their standing in the city, they could be called before a tribunal to have their names removed—or blotted out—from the city's registry. It seems that this is the concept behind the Book of Life as well. The names of all the people ever born were originally contained within its pages, but those who rejected Christ have their names deleted.

[1]
Along with the book of life, we also read about other books being opened at this judgment.
The question that arises from this passage is what are the other books that will opened?
·
Romans 2:15-16 speaks of Christ judging the secrets of men. This suggests that one day the human conscience may play a role in judging the sinner. The conscience is not an infallible guide to what is right and wrong, but when the conscience is violated it shows an attitude of sin that could be brought against the sinner.
·
Matt. 12:36-37 speaks of Christ judging the words of men. As the saying goes, "If you give a man enough rope, he will hang himself." This appears to be another book that could be brought against sinners as they will be judged by their own words.
·
Matt. 16:27 speaks of Christ judging men by their works. "For the Son of Man is going to come with his angels in the glory of his Father, and then he will repay each person according to what he has done."
I recently read an article in USA Today about tech-giant Google. According to their stats, Google processes on average 40,000 search queries every second, which translates to over 3.5 billion searches per day and 1.2 trillion searches per year worldwide.
If that wasn't staggering, get this—Did you know every Google search you've ever performed is stored on the search giant's servers? With that mountain of information, Google can tell a lot about you: where you live, your hobbies, age, health problems, religion and more.
Of course, Google uses that data mostly to target you with ads. But the point remains, anything you've ever done on a computer with Google is instantly recorded and can be recalled.

[2]
Now the folks at Google are smart, but they are not omniscient like God. What Google can do pales in comparison to Almighty God. The Lord has the facts on everyone who's ever lived and He is keeping an accurate record so that one day He can render a verdict that right and true.
Erwin Lutzer adds, "Think of how accurately God will judge every unbeliever! Each day of every life will be analyzed in minute detail. The hidden thoughts and motives of each hour will be replayed, along with all the actions and attitudes. The words spoken in secret will be made public for all to see. They will have no attorney to whom they may appeal, no loopholes by which they can escape. Nothing but bare, indisputable fact from a perfect Judge."

[3]
What about you? Will your name be found in the "Lamb's Book of Life?" The Bible solemnly warns, "If anyone's name was not found written in the book of life, he was thrown into the lake of fire" (Revelation 20:15). Like the old hymn says, you can make sure that "when the roll is called up yonder" you will be there by repenting of your sins and trusting in Christ alone for salvation.

-DM
---
[1]
David Jeremiah, Agents of the Apocalypse (New York: Faith Words, 2014), 259.
[2]
Kim Komando, "How to Protect Your Privacy on Google," USA Today, 17 May 2013 <http://www.usatoday.com/
story/tech/columnist/komando/2013/05/17/google-maps-duckduckgo-web-history/2155759/>
[3]
Erwin Lutzer, One Minute After You Die (Chicago: Moody Press, 1997), 110.