John Wycliffe's life marked the beginning of an era. It was through the efforts of this dedicated Christian scholar, preacher and Bible translator that the Reformation got its start. That's why he's often called, "The Morningstar of the Reformation."
Wycliffe's life's work was translating both the Old and New Testaments into the English language—a project so unpopular it led to his martyrdom at the hands of the Catholic Church. Until Wycliffe's heroic work, the Scriptures were chained to ornate pulpits and written in Latin (a language than only the clergy could read). While threats were being hurled against him for his defiance, Wycliffe persevered. However, the stalwart saint was killed in 1384 before the translation was complete. Fortunately, his friend John Purvey finished what Wycliffe began. Purvey is considered responsible for the version of the "Wycliffe" Bible we have today.
John Wycliffe left quite an impression on the Church: 43 years after his death, officials dug up his body, burned his remains, and threw the ashes into the River Swift. Still, they couldn't get rid of him. Wycliffe's teachings, though suppressed, continued to spread. As a later chronicler observed, "Thus the brook hath conveyed his ashes into Avon; Avon into Severn; Severn into the narrow seas; and they into the main ocean. And thus the ashes of Wycliffe are the emblem of his doctrine which now is dispersed the world over."[1]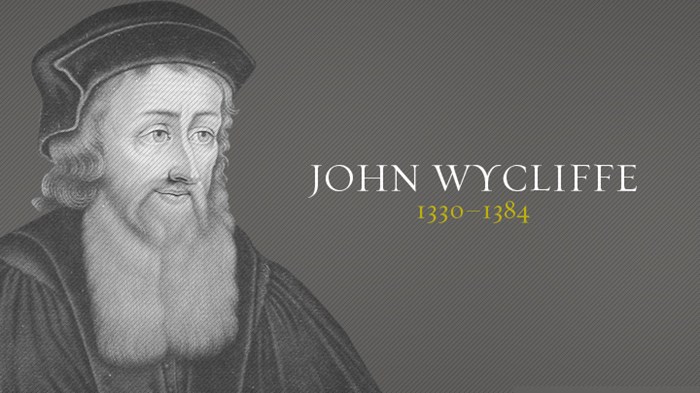 The influence of Wycliffe doesn't end there. Sometime after his death, one of his Bibles was discovered and on the flyleaf were scribbled these words in his handwriting: "This Bible is translated and shall make possible a government of the people, by the people and for the people."

[2]
Little did Wycliffe realize that almost 500 years later his words would be lifted from his Bible and immortalized by President Abraham Lincoln in his famous "Gettysburg Address."
Wycliffe and so many other giants of the faith made an impact because they understood the importance of living a legacy. You don't need a platform like John Wycliffe to make your mark on this world. Everyone one of us is living the legacy that we will leave behind. The legacy that you leave tomorrow is determined in by the life you live today.
In 1 Chronicles 22 we find that as King David neared the end of his life, there was still one dream that remained unfulfilled. Most of all, David wanted to build a house for God befitting of His glory. Of course, David knew that God would not permit him to do this. Rather than giving up, David determined that if he couldn't build a temple for God then He would do everything in his power to help someone else do it. David spent his last years collecting the supplies to build the Temple, so that when his son, Solomon, took the reins of power he could begin building immediately.
"11 Now, my son, the Lord be with you, so that you may succeed in building the house of the Lord your God, as he has spoken concerning you. 12 Only, may the Lord grant you discretion and understanding, that when he gives you charge over Israel you may keep the law of the Lord your God. 13 Then you will prosper if you are careful to observe the statutes and the rules that the Lord commanded Moses for Israel. Be strong and courageous. Fear not; do not be dismayed. 14 With great pains I have provided for the house of the Lord 100,000 talents of gold, a million talents of silver, and bronze and iron beyond weighing, for there is so much of it; timber and stone, too, I have provided. To these you must add. 15 You have an abundance of workmen: stonecutters, masons, carpenters, and all kinds of craftsmen without number, skilled in working 16 gold, silver, bronze, and iron. Arise and work! The Lord be with you!"

(1 Chron. 22:11-16)
Notice the hopeful tone in David's charge to Solomon. It wasn't God's will for David to build the Temple. Instead of becoming bitter and disillusioned, David looked ahead and saw that God wanted to do more through his son. David didn't sulk and pout over what God wouldn't let Him do, but he took the opportunity to be a blessing and lay the groundwork for the future work that God would do.
Every believer should dream beyond the span of his/her life. What is it that you'd like to see done for the glory of God?

Like Wycliffe or David, you may not live to see it, but you can determine to help the next generation achieve what you could not. How do we do this? We give sacrificially.

We pour our lives into younger people through discipleship. We communicate the vision God has given us to others and include them in it. -DM