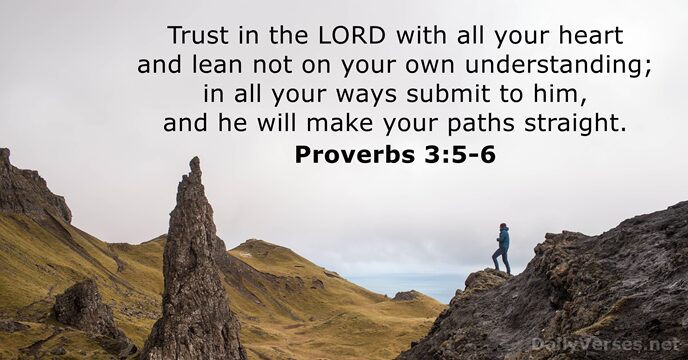 5 Trust in the Lord with all your heart, and do not lean on your own understanding. 6 In all your ways acknowledge him, and he will make straight your paths. (Proverbs 3:5-6)
Burleigh Law served as a jungle pilot in central Africa. One day he took off in clear skies, but shortly he noticed thunderclouds in the distance; and these rushed together at startling speed. Burleigh frantically searched for an airstrip, but there was nowhere to land. Openings appeared in the clouds here and there, and he kept turning his plane towards them, following little patches of blue. It was like a needle threading its way through fabric. Burleigh was lost in the clouds, depending entirely on visible navigation. Finally, spotting a little landing strip, he made it safely to the ground.
Suddenly a vehicle raced up to his plane, and a nurse jumped out and ran to the plane, shouting, "I don't know where you came from, but I know you are an answer to prayer!" This woman was staying with a missionary couple who had been isolated on a remote station for months. The unsettled political situation had left them cut off from outside communication. The roads were impassible and the bridges out. The missionary wife had become sick with fever. That morning they had called together the Christians in the village church to earnestly pray for God's guidance. That day, the Lord arranged the storm clouds to direct Burleigh Law and his little plane to that spot of earth.

[1]
Burleigh Law and family (1955) The book which tells this dramatic story
If our great God can guide the birds in their migrations and the planets in their orbits, then He has an appointed way for our lives and can lead us accordingly. Oswald Chambers commented about these verses, "We have no right to judge where we should be put, or to have preconceived notions as to what God is fitting us for. God engineers everything. Wherever He puts us, our one great aim is to pour out a whole-hearted devotion to Him in that particular work."

[2]
In what area do you need God's guidance today? Ask the Heavenly Father to lead the way. "Lord, may I love and serve You with all my heart today. Guide my path to the people and places you'd have me to go. I surrender my stubborn tendency to do life on my own terms. Teach me that my will leads to dead-end streets and that Your wisdom will keep me on the road to all that is good and fruitful." -DM
---
[1]

Virginia Law, Appointment Congo (Chicago: Rand McNally, 1966), 20-21.
[2]

Oswald Chambers quoted by, David C. McCasland, "God's Direction," Our Daily Bread, 15 October 2015 <https://odb.org/2015/10/15/gods-direction/>