The Vasa was going to be the pride of the Swedish navy. Commissioned by the Swedish King, Gustavus Adolphus in 1626, she would take two years to complete and no expense was spared in the construction of this floating fortress. Measuring 226 feet long, painted in vibrant colors, topped by ten enormous sails and adorned with ornate wood-carved sculptures, this ship was intended to project military might. Vasa was more than just eye-candy though, she also was armed to the teeth with 64 cannons and enough barrack space to house 445 men. At its time, she was one of the most expensive ships ever built with a multi-million dollar price tag in today's economy.
However, there were problems with her that only a few knew about. Her makers knew that Vasa was overweight, but they didn't dare say that to the Swedish king who was off fighting in the Thirty Years War. That's why August 10, 1628, was a dark day in naval history. As the Vasa set out on her maiden voyage from the Stockholm harbor hopes were high and so was national pride. But the onlookers would be horrified by what they witnessed next.
About a mile out to sea Vasa encountered a violent gust of wind. Initially, she heeled to one side, but slowly righted herself. Then moments later she listed again—so far that water washed into the lower gunport. To the amazement of the people on shore, the Vasa sank and an estimated 50 lives were lost. Vasa was rediscovered in 1956, salvaged in 1961, and today she can be seen in a Stockholm museum.

[1]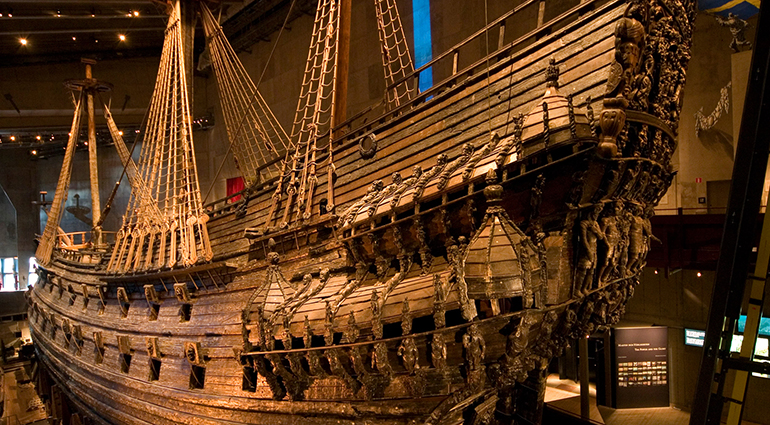 In our Christian life we can become overweight with too much excess baggage. Encouraging us in our spiritual journey, the book of Hebrews says: "Let us lay aside every weight, and the sin which so easily ensnares us, and let us run with endurance the race that is set before us, looking unto Jesus, the author and finisher of our faith" (12:1-2). Like the lavishly decorated ship, we may project to others an impressive exterior, but if we are weighed down with sin, guilt, regret and the other burdens of life our perseverance can be severely impaired.
In context, the writer of Hebrews is actually drawing an analogy from runners in the ancient Olympic contests. No runner would think of running a sprint or marathon in a winter coat and steel-toed boots. In fact, many ancient athletes competed in the nude to be free of any clothing that would cause friction or hold them back. The command to divest ourselves of sin and other worldly hindrances applies to you and me in our spiritual race.
Consider the words of Bible teacher Kent Hughes on this, "We each have characteristic sins that more easily entangle us than others. Some sins that degrade and tempt others hold little appeal for us—and vise versa. Sensuality may be the Achilles' heel for many men, but not all. Another who has gained victory over materialism may regularly drink down jealousy's deadly nectar. Dishonesty may never be an issue for some, but just cross them and you'll see the Devil's temper! Whatever our sin looks like, it must be stripped off and left behind or we will not finish well."

[2]
In other words, we must learn to travel light. God help us to identify what sins threaten to sink our ship, or trip us up in life's race. And then give us the power to throw those hindrances overboard or cast them aside never to return again. -DM